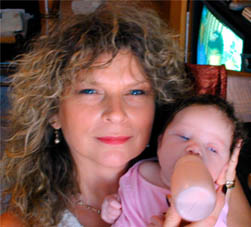 "Sing, O barren woman, you who never bore a child; burst into song, shout for joy, you who were never in labor; because more are the children of the desolate woman than of her who has a husband, "says the Lord. "Enlarge the place of your tent, stretch your tent curtains wide, do not hold back; lengthen your cords, strengthen your stakes. For you will spread out to the right and to the left; your descendants will dispossess nations and settle in their desolate cities. "Do not be afraid; you will not suffer shame. Do not fear disgrace; you will not be humiliated. You will forget the shame of your youth and remember no more the reproach of your widowhood. For your Maker is your husband– The Lord Almighty is his name– the Holy One of Israel is your Redeemer; he is called the God of all the earth. The Lord will call you back as if you were a wife deserted and distressed in spirit– a wife who married young, only to be rejected," says your God. "For a brief moment I abandoned you, but with deep compassion I will bring you back. In a serge of anger I hid my facefrom you for a moment, but with everlasting kindness I will have compassion on you," says the Lord your Redeemer. "To me this is like the days of Noah, when I swore that the waters of Noah would never again cover the earth. So now I have sworn not to be angry with you, never to rebuke you again. Though the mountains be shaken and the hill be removed, yet my unfailing love for you will not be shaken nor my covenant of peace be removed," says the Lord, who has compassion on you." Isaiah 54:1-10 NIV
In 2000 Susan graduated Kingsborough Community College with an Associate Degree in Mental Health. In 2005 she earned her B.A. in Sociology from Brooklyn College so she can better serve the women who come to Rachel's Joy.

Susan is the founder and director of Rachel's Joy Maternity Home. Before starting this ministry in 1989, she visited and studied other maternity homes, not only locally, but out of state as well. Susan volunteered for over a year at Star of the Sea, a homeless women's shelter in Hollis Queens. There she worked closely with Winny McCarthy, the shelter's director, and received extensive training in working with women. She also has volunteered at Good Council Maternity Home in Staten Island.

With her degrees in Mental Health and Sociology and a continued concern and compassion for women in crisis situations, Susan is deeply committed to seeing that the unmet needs of young unwed mothers are met through practical as well as spiritual ways. There have been many others who have worked with Susan, some since the beginning of this ministry. In 2005 Rachel's Joy became an assumed name for ACTS Community Development Corp. a 501(C) 3. A Not for profit corporation focused on bringing transformation to NYC.
Rachelsjoy@aol.com
back to the top